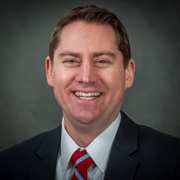 Matthew Postulka
Senior Vice President and Chief Information Officer

Biography
Matthew (Matt) Postulka a senior vice president and the chief information officer at the Federal Reserve Bank of Boston and oversees the technology and operations division. He is also a member of the Executive Committee at the Boston Fed. He is responsible for the Cash and Wholesale Payments operations, providing the Bank's technology group with strategic direction in the areas of application development, project management and end user services, and leading the Information Security department in Federal Reserve System-wide information technology strategies.
Before joining the Bank, Matt worked at Arbella Insurance where he led IT solution delivery, architecture, and project management across all of Arbella's business units. Prior to that, he spent more than a decade working for Liberty Mutual insurance.
Matt holds an M.B.A. from Babson College and a bachelor's from Providence College, in addition to multiple management certifications.

Education
M.B.A., Babson College
B.A., Providence College