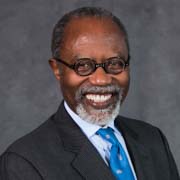 Phillip L. Clay, Ph.D.
Professor
Massachusetts Institute of Technology

Biography
Phillip L. Clay, Ph.D., Deputy Chair and Class C Director, served as chancellor of the Massachusetts Institute of Technology from 2001 to 2011 and held other leadership positions there, including head of the department of urban studies and planning. Clay is known for his work in U.S. housing policy and community-based organizational development. He is the former chair of the board of The Community Builders, Inc., and serves on the board of trustees of the Kresge Foundation. Clay is also a member of the board of trustees of The Aga Khan University.