Boston Fed President, Governor Raimondo and Secretary Pryor Announce Collaborative Economic Development Efforts
Contact: Matthew Campion, 617.973.1476, matthew.campion@bos.frb.org, or Nick Brancaleone, 617.973.1477, nicolas.brancaleone@bos.frb.org

Rhode Island selected by Boston Fed as next state to conduct competition for postindustrial cities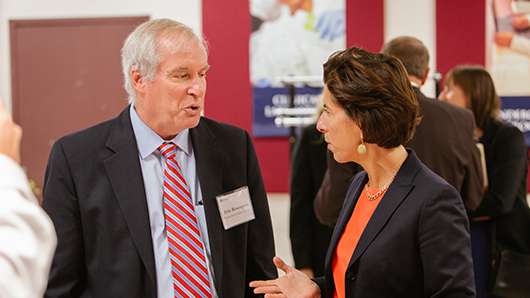 Providence, RI - (September 29, 2015) Federal Reserve Bank of Boston President Eric Rosengren, Rhode Island Governor Gina Raimondo and Rhode Island Commerce Secretary Stefan Pryor today announced that the Boston Fed has selected Rhode Island as the next state in its Working Cities Challenge competition, an economic development effort designed to strengthen cross-sector collaboration and leadership in the Ocean State's smaller cities. Funding for the competition will be provided by the state, the Rhode Island Foundation, Living Cities, and other public and private partners.
Governor Raimondo's administration, under the Executive Office of Commerce, has committed $150,000 annually for the next three years of matching funds through the collaboration of the Commerce Corporation, Department of Labor and Training and RI Housing to fund the program. As part of this initiative, cities in the Ocean State have the ability to apply for funds in order to address local issues affecting lower-income residents.
The Working Cities Challenge, launched in 2013 in Massachusetts, builds on Boston Fed research that identified cross-sector collaboration and leadership as the key ingredients in resurgent smaller cities across the country. In January 2014, six cities in Massachusetts received $1.8 million in funding for projects to address issues impacting low-income communities.
"We are pleased to bring the Working Cities Challenge to Rhode Island and are thankful to Governor Raimondo and Secretary Pryor for their support of the effort, as well as the Rhode Island Foundation and Living Cities. Many partners have come together to make this possible - precisely the model of cross-sector collaboration that forms the basis of the Working Cities Challenge. This competition focuses on the residents of the state's postindustrial cities - places with unique assets that taken together can build civic leadership infrastructure to address key challenges they have been facing." Rosengren said.
"Rhode Island is committed to economic development. Everyone has a roll to play in our state's comeback and my administration wants to make sure that no one is left behind in this process," said Governor Gina M. Raimondo. "The Working Cities Challenge will engage some of our most vulnerable communities, while encouraging cross-sector collaboration and revitalizing and strengthening our economy."
"Economic development at the state and local level is a priority for the Raimondo administration," said Commerce Secretary Stefan Pryor. "Collaborative efforts like this help to build upon new State economic development initiatives including the Main Street Rhode Island streetscape improvement fund, the tax stabilization agreement incentive program, and the Rebuild Rhode Island tax credit program. In conjunction with the deployment of federal, state and private funding, municipalities are encouraged to structure economic development proposals that are informed by the unique needs of local businesses, neighborhoods, and workers."
"Working Cities is a unique opportunity to partner with the Federal Reserve Bank of Boston, Governor Raimondo and her administration, and the private sector for the benefit of struggling communities in Rhode Island," said Neil Steinberg, President and CEO of the Rhode Island Foundation. "We believe this can result in innovative, collaborative approaches to complex challenges. This model has been rolled out successfully in Massachusetts, and we look forward to helping lead the effort in Rhode Island."
"Collaboration has become the new competition. The success of the Boston Fed's Working Cities Challenge in Massachusetts further underscores the need for more public-private cooperation and investment in smaller and medium-sized cities. That's why Living Cities is thrilled to support the expansion of the Boston Federal Reserve's Working Cities Program into Rhode Island," said President and CEO of Living Cities Ben Hecht.
A steering committee, comprised of public, private and nonprofit leaders including representatives from Rhode Island Commerce Corporation, the Rhode Island Foundation, and the Greater Providence Chamber of Commerce, among others is being assembled. That committee will design the framework for the competition, which is expected to launch in early 2016. Eligibility criteria as well as the grant application process will be announced later this year.
About the Working Cities Challenge
For more on the challenge visit http://bostonfed.org/workingcities/