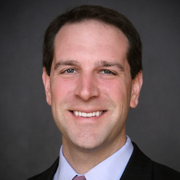 Adam Wehrenberg
Assistant Vice President

Biography
Adam Wehrenberg is an assistant vice president in the Corporate Strategy & Risk department and serves as the Bank's business continuity officer. Adam is responsible for coordinating Bank-wide contingency planning and facilitating crisis management processes. Adam has also played a key role in advancing the Federal Reserve System's operational resilience strategy and crisis management capability across the Reserve Banks. Adam previously served in the Bank's Secure Payments group, where he was responsible for developing and implementing key elements of the Fed's strategy for payment security, with a focus on synthetic identity fraud and internal governance.
Before joining the Bank, Adam was a project director in the City of Boston's Office of Emergency Management, where he led a planning program to prepare for low-probability, high-consequence catastrophic events. This included developing the nation's first regional framework to integrate public safety and IT personnel in response to critical cyber disruptions.
Adam received an M.B.A from Boston University and a B.A. in political science from Stonehill College.