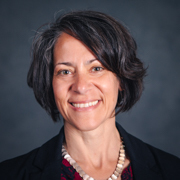 Breean Fortier
Senior Vice President, Financial Support Office

Biography
Breean Fortier is a senior vice president and function manager in the national Financial Support Office (FSO) with executive oversight of local financial management activities.
Breean collaborates across the Federal Reserve System to oversee the FSO's work with Federal Reserve System stakeholders in order support alignment the 12 Reserve Banks and national business CFOs' funding decisions. Breean has executive oversight of the Main Street Lending Program, and oversees Boston Fed's accounting, procurement, financial planning and analysis departments, and the internal controls over financial reporting functional areas. She is also a member of the executive committee.
Before joining the Bank, Breean worked as chief financial officer at the New England Conservatory. Prior to that, she served as senior vice provost for budget, planning, and administration for Northeastern University and held several roles in information technology and finance for the Commonwealth of Massachusetts.

Work Experience
Chief financial officer, New England Conservatory
Senior vice provost for budget, planning, and administration, Northeastern University
Commonwealth of Massachusetts

Education
M.A., Columbia University
B.A., Harvard University

Public Service
Various roles in IT and finance, Commonwealth of Massachusetts