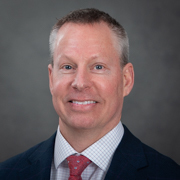 Brett Schur
Vice President, FedNow℠ initiative

Biography
Brett Schur is a vice president and the Federal Reserve's audit lead for FedNowSM, responsible for designing and leading the execution of FedNow internal audit activities at the Federal Reserve Bank of Boston, and coordinating the execution of FedNow-related audit activities across the other Reserve Banks.
Prior to his current role, Brett was a vice president at the Federal Reserve Bank of Chicago, responsible for the Portfolio Management Office in the Customer Relations and Support Office. Brett began his Federal Reserve career in the Chicago Internal Audit department, taking on positions of increasing responsibility from 1999 to 2013 and serving as the assistant vice president and assistant general auditor from 2008 through 2013. Prior to joining the Federal Reserve Bank of Chicago, Brett worked at the Chicago Board of Trade.
He received a bachelor's degree in finance, with a minor in economics from Northern Illinois University and an M.B.A. from Loyola University - Chicago, Quinlan School of Business with concentrations in management science and information systems. Brett is a Certified Information Systems Auditor (CISA) and Certified Internal Auditor (CIA).

Education
M.B.A., Loyola University
B.S. in finance, Northern Illinois University
Certified Information Systems Auditor (CISA)
Certified Internal Auditor (CIA)
Certificate in network security, DePaul University