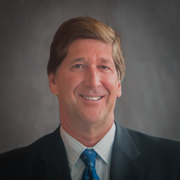 Bruce Van Saun
Chairman & Chief Executive Officer
Citizens Financial Group, Inc.

Biography
Bruce Van Saun, chairman and chief executive officer of Citizens Financial Group, Inc. serves as the Federal Advisory Council (FAC) representative for the First Federal Reserve District. The FAC, which consists of one banker from each of the 12 Federal Reserve Districts, meets quarterly to discuss business and financial conditions with the Federal Reserve Board of Governors in Washington, D.C.
Van Saun joined Citizens Financial Group in 2013 and has more than 30 years of financial services experience. He joined Citizens after serving as RBS Group finance director and as an executive director on the RBS Board from 2009 to 2013. From 1997 to 2008, Van Saun held a number of senior positions with Bank of New York and later Bank of New York Mellon. Earlier in his career, he held senior positions with Deutsche Bank, Wasserstein Perella Group, and Kidder Peabody & Co. He is currently a director of Moody's Corporation (New York) and a member of The Clearing House Supervisory Board. He is also a board member of the National Constitution Center, Partnership for Rhode Island, and Jobs for Massachusetts, and is a fellow of the Foreign Policy Association.