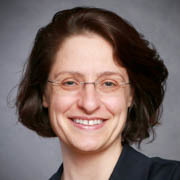 Christine Docherty
Vice President & Associate General Counsel
Legal

Biography
Christine Docherty is a vice president and associate general counsel in the Legal Department at the Federal Reserve Bank of Boston. Christine is counsel to the Supervision, Regulation, and Credit (SRC) client area and she is responsible for contributing to the most complex and sophisticated SRC matters, as well as directing and overseeing the SRC work of other lawyers in the Legal department.
Prior to joining the Bank, Christine spent five years as a lawyer and officer with State Street Corporation, and five years with the law firm of Goodwin Procter. Before joining Goodwin Proctor, Christine was a law clerk at the United States Securities and Exchange Commission.
Christine is a graduate of Columbia University and University of Pennsylvania Law School.

Education
JD., University of Pennsylvania Law School
B.S., Comlumbia University