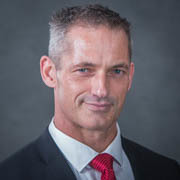 Daniel Anthony
Senior Vice President and FedNow℠ Chief Information Officer
FedNow℠ Service
Dan.Anthony@bos.frb.org

Biography
Daniel (Dan) Anthony is a senior vice president and FedNowSM chief information officer at the Federal Reserve Bank of Boston with responsibility for managing and directing the program's overall technology strategy, architecture, application development, and cybersecurity. He will also be responsible for delivering a FedNowSM solution that fully meets market-driven business requirements, while ensuring all the appropriate standards for resiliency and security are met.
Prior to this role, Dan worked at Fletcher Building, one of New Zealand's largest corporations, where he led the technology function. Previously, he held positions at Google's gTech Flights division, and other senior level technology roles at Google, Accenture, Living Social, and Bearing Point. He has considerable expertise in strategic technology, portfolio, management, solution delivery, software engineering, integration, and operations.
Dan holds two bachelor's degrees from the University of Auckland in New Zealand.

Education
B.Com., University of Auckland
B.A., University of Auckland