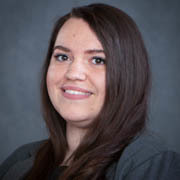 Daniella Ciuffetelli
Payment Strategies Industry Specialist
Payment Strategies
daniella.ciuffetelli@bos.frb.org

Biography
Daniella Ciuffetelli is a payment strategies industry specialist for Secure Payments and is responsible for the applied research and analysis in relation to synthetic identity fraud within the U.S. payment system. This work entails collaboration with payment professionals across the financial system, and with interested stakeholders in various related industries. Daniella brings over 10 years of experience in financial services, compliance, fraud mitigation practices, and risk management to the Secure Payments initiative.
Prior to joining the Bank, Daniella was a business process analyst at JP Morgan Chase, where she held various roles in lending, marketing, compliance and portfolio risk review.
Daniella holds a bachelor's degree in economics from the University of Delaware.

Work Experience
Associate Business Risk and Fraud Analyst, Federal Reserve Bank of Boston, 2015–present
Business Process Analyst, JP Morgan Chase, 2013–2014
Business Underwriter, JP Morgan Chase, 2012–2013
Account Manager, JP Morgan Chase, 2011–2012
Lead Confirmer, JP Morgan Chase, 2008–2011

Education
Bachelor of Science, Economics – University of Delaware (Graduated 2010)