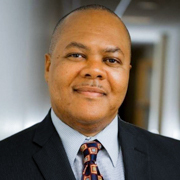 Danny Best
Vice President
Office of Diversity, Equity and Inclusion
Danny.Best@bos.frb.org

Biography
Danny Best is the vice president of the Office of Diversity, Equity & Inclusion (ODEI) responsible for leading the development of ODEI's strategic plans and its inclusion programs, including the Bank's supplier diversity program. In this role, he support's the Bank's employee resource groups, Diversity and Inclusion Working Group, and the Management Council's diversity and inclusion-focused working group. Danny also works closely with Human Resources leadership to develop policies that support the Bank's workforce and culture.
Prior to joining the bank, Danny was the lead director for global diversity and inclusion at Dell Technologies where he served as an advisor and business partner with global business leaders to shape a diversity and inclusion strategy and drive execution of DE&I objectives. He also led a team charged with finding ways to better attract, hire, develop, retain, promote, and engage historically under-represented talent. Earlier in his career, Danny spent over two decades working in human resources, diversity and inclusion in the financial services, global pharmaceuticals and high tech industries.
Danny holds a bachelor's degree and MBA from Northeastern University, as well as certificates from Harvard Business School, including a Social Value Creation Certificate and a Strategic HR Management Certificate. He also holds a Senior Professional Human Resources certification.

Education
M.B.A., Northeastern University
Social Value Creation Certificate, Harvard Business School
Strategic HR Management Certificate, Harvard Business School
Senior Professional Human Resources Certification