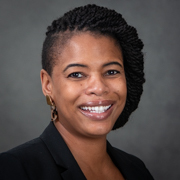 Des Allen
Assistant Vice President, Community Development Outreach
Regional & Community Outreach
Des.Allen@bos.frb.org

Biography
Des Allen is an Assistant Vice President in the Regional and Community Outreach department at the Federal Reserve Bank of Boston, which works to advance economic opportunities for low- and moderate-income (LMI) communities by addressing the root causes of inequity. She is responsible for managing a portfolio of strategic engagement efforts to transform the economic systems that impact LMI families and communities. This work includes supporting local municipalities in advancing racial equity in their policies and processes, working with employers to ensure job quality for LMI workers, and advancing efforts to improve early child care systems to ensure that they meet the needs of working parents.
Prior to joining the Boston Fed, Des worked for Dalberg Advisors, an international strategy consulting firm where she informed strategies for multi-national corporations, global foundations, multi-lateral development finance institutions, and national governments. Her work spanned numerous sectors and focused primarily on advancing transformational economic growth in Africa, where she lived in Johannesburg and Dakar. Des also served as the Chief Development Officer for Homestart, a Boston-area nonprofit aimed at ending homelessness. She currently sits on the Board of Directors for the Center for Women & Enterprise and the Alumnae Board for The Winsor School.
Des holds a BA from Stanford University and an MPP from the Harvard Kennedy School.

Work Experience
Federal Reserve Bank of Boston, Director of Strategy, Present
HomeStart Inc., Chief Development Officer, 2019
Dalberg 3D, Co-Founder and Senior Manager, 2015 – 2018
Dalberg Advisors, Senior Consultant, 2010 – 2015
International Finance Corporation, Consultant, 2008 – 2010
Nathan Associates Inc., Associate, 2007 – 2008
Advisor, 2006 – 2007
Office of the President, Rwanda
Ministry of Economy, United Arab Emirates
Office of the President, Liberia