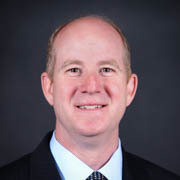 Donald McGough
Vice President

Biography
Donald (Don) McGough is a vice president in the Corporate Strategy & Risk department at the Federal Reserve Bank of Boston. Don has responsibility for the Bank's strategy, enterprise risk, business continuity, and records and information management functions. He has led efforts to refresh the Bank's multi-year strategic plan, align strategy, risk management and innovation activities, and strengthen the Bank's emergency preparedness and resilience.
Prior to joining the Bank, Don served in the cabinet of the late Boston Mayor Thomas M. Menino. As director of the Mayor's Office of Emergency Management, Don was responsible for coordinating the City's homeland security and preparedness programs. Before taking on that role, Don worked as a homeland security consultant to various state and local agencies. Don gained extensive policy and operational experience during his tenure with the Boston Police Department, where he held various positions including chief of staff, assistant chief for administration and technology, and director of research and evaluation.
Don is a graduate of Northeastern University and the New England School of Law, and a member of the Massachusetts Bar.