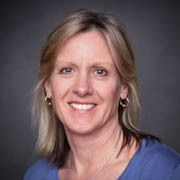 Eileen Leighton
Vice President

Biography
Eileen Leighton is a vice president and discount officer responsible for the credit and applications functions within the Supervision, Regulation and Credit (SRC) department at the Federal Reserve Bank of Boston. She has been a key contributor to a number of department initiatives and has led a variety of strategic projects at the Boston Fed and for the Federal Reserve System in support of Discount Window policy initiatives.
Eileen joined the Bank's Research department in 1984 and since 1995 has held positions of increasing responsibility in SRC's credit function. She was promoted to assistant vice president and discount officer in 2011 at which time she also assumed responsibility for the Applications function. She is the chair of the System's Subcommittee on Credit Risk Management's Collateral Advisory Group, leading a variety of System Discount Window collateral eligibility and valuation initiatives.
Eileen is a graduate of Saint Anselm College and participated in MIT's Executive Leadership program, as well as leadership training programs at the Boston Fed.