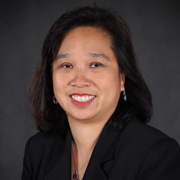 Jeanne Yee MacNevin
Vice President, Chief of Staff and Corporate Secretary
jeanne.macnevin@bos.frb.org

Biography
Jeanne MacNevin is a Vice President in the Corporate Affairs Department and Corporate Secretary and Chief of Staff at the Federal Reserve Bank of Boston. She is responsible for managing all activities related to the Bank's Board of Directors, and addressing various corporate matters. She works closely with Bank leaders on a variety of activities that advance the Bank's vision and mission.
Jeanne joined the Bank in 1992 as a senior assistant examiner in the Bank Examination department, and went on to hold a number of positions of increasing responsibility in the Supervision, Regulation & Credit department. She then led the Financial Planning & Analysis department until she took on her current role in 2016. She has contributed to the Bank in a number of ways, including as a founder and former co-chair of the LEAD in Women employee resource group and with involvement in the Bank's Asian professionals employee resource group.
She has participated in the Greater Boston Chamber of Commerce Future Leaders Program and a number of leadership development programs within the Federal Reserve System. Jeanne has been a member of the Boston Women's Leadership Council since its inception.
Jeanne holds a B.A. in East Asian Studies from Harvard University, and an M.B.A. with a concentration in Accounting from Boston University.

Education
B.A. in East Asian Studies, Harvard University
M.B.A. with a concentration in Accounting, Boston University