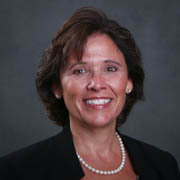 Laura Duhamel Rogers
Vice President
Supervision, Regulation & Credit
LauraDuhamel.Rogers@bos.frb.org

Biography
Laura Rogers is a vice president in the Supervision, Regulation, and Credit department where she is responsible for the strategic, supervisory and administrative activities of the Large Bank and Insurance Unit. Laura directs and oversees the resident teams responsible for the comprehensive supervision of a portfolio of firms within the first district. She is also a member of the Federal Reserve System's Large and Foreign Banking Organization Management Group providing supervision oversight of large financial institutions operating within the United States.
Previously, Laura led the Federal Reserve System's oversight of a domestic systemically important financial institution as an officer in the Large Institution Supervision Coordinating Committee (LISCC) Unit and previously held similar leadership roles over large foreign institutions operating in the U.S. She has also served on Federal Reserve System oversight groups including the LISCC Liquidity Program Steering Committee, the Resolution and Recovery Planning Steering Committee and the Supervisors Roundtable on Governance Effectiveness, and was a co-chair of the Dedicated Supervisory Team Lead working group within the LISCC program.
Prior to joining the Boston Reserve Bank in 1999, Laura was a commissioned bank examiner with the FDIC and an assistant chief director for the Massachusetts Division of Banks.
Laura earned a B.S. in Finance with a concentration in Economics and Accounting from Babson College.

Work Experience
Positions of increasing responsibility, Federal Reserve Bank of Boston 1999 – present
Assistant Chief Direct/Regional Field Manager, Commonwealth of Massachusetts, Division of Banks 1996 - 1999
Commercial Real Estate Appraiser, 1992 – 1995
Commissioned Bank Examiner, Federal Deposit Insurance Corporation, 1986 - 1992

Education
B.S. in Finance, 1986 Babson College - Wellesley, Massachusetts
Concentration: Economics and Accounting

Public Service
Board member, National Charity League, Inc. Southern New Hampshire Chapter, 2016 to present