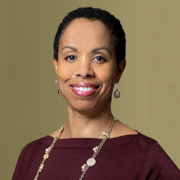 Lauren A. Smith, M.D.
 Chief Health Equity and Strategy Officer
CDC Foundation

Biography
Lauren A. Smith, a Class B director, is the chief health equity and strategy officer for the CDC Foundation based in Atlanta. Previously, Smith was co-CEO of FSG, a mission-driven social impact consulting firm based in Boston, which provides strategy and evaluation support to foundations, businesses, and nonprofits to achieve equitable social change. Smith has more than 25 years of experience working at the intersection of the health care, public policy, and public health fields. She has published extensively in peer-reviewed literature on health equity and the implications of social policies on child and family well-being. Smith has also served on numerous national and state advisory committees that focus on public health and health care. Smith speaks regularly about strategic philanthropy and collective impact. Her prior leadership roles include serving as the medical director and interim commissioner for the Massachusetts Department of Public Health. She was also the national medical director of the Medical Legal Partnership for Children and the medical director of the pediatric inpatient service at Boston Medical Center, where she was on faculty in the Department of Pediatrics at Boston University School of Medicine. Her experience in federal and state government includes roles as a policy analyst in the Office of Inspector General for the U.S. Department of Health and Human Services and as a W.T. Grant Health Policy Fellow in the office of the Massachusetts Speaker of the House. Smith is active in civic organizations and is on the board of several nonprofits, as well as the board of Blue Cross Blue Shield of Massachusetts.