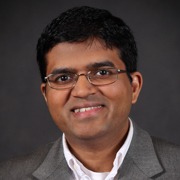 Manoj Pothvath
Assistant Vice President

Biography
Manoj Pothvath is an assistant vice president and accounting officer in the Accounting department at the Federal Reserve Bank of Boston. He is primarily responsible for the Boston Fed's financial reporting, financial accounting, asset management, accounting policy, internal controls over financial reporting, and discretionary policy. Additionally, he has certain responsibilities over capital budgeting and procurement. Previously, he served as director of accounting where he worked to enhance the financial accounting and reporting processes at the Bank on matters such as capitalization of fixed assets, internal use software, and lease accounting. Manoj is recognized as a Federal Reserve System thought-leader and contributor on complex financial accounting policy matters.
Manoj has 20 years of accounting and auditing experience. Prior to joining the Boston Fed, Manoj worked with Deloitte & Touche LLP in Boston as an audit senior manager where he gained significant experience in US GAAP, IPOs, divestitures, SEC, and PCAOB reporting, etc.
Manoj is a Certified Public Accountant, a Chartered Accountant, and holds a master's degree in finance from the Harvard University Extension School and a bachelor's degree in commerce and economics from the University of Bombay, India.

Work Experience
Federal Reserve Bank of Boston – 2009 through present (Accounting Officer)
Deloitte & Touche LLP – 2001 through 2009 (Audit Senior Manager)
Deloitte India – Bombay, India – 1993 through 2001 (Audit Manager)

Education
Certified Public Accountant – Licensed in Massachusetts
Chartered Accountant - The Institute of Chartered Accountants of India
M.S in finance, Harvard University Extension School
B.A in commerce and economics, University of Bombay, India