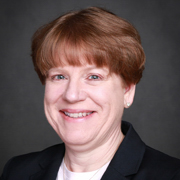 Maureen B. Savage
Senior Vice President, Strategic Bank Services

Biography
Maureen Savage is a senior vice president and member of the Executive Committee of the Federal Reserve Bank of Boston. She has responsibility for a number of key corporate functions at the Boston Reserve Bank, including strategic planning, enterprise risk management, human resources, corporate affairs, communications, and business continuity.
Prior to her current role, Maureen served as a vice president in the Supervision, Regulation & Credit Department, with responsibility for the Discount Window, Payments System Risk, Regulatory Reserves, Statistics, Banking Applications, and Data Services business functions. Since joining the Reserve Bank in 1986, Maureen has held positions of increasing responsibility in several business areas, including Internal Audit and Financial Accounting. She joined SRC in 1992, and was promoted to assistant vice president in 2006 and vice president in 2009.
Maureen holds a B.B.A. from University of Massachusetts at Amherst and an M.B.A. from Boston College.

Education
M.B.A., Boston College
B.B.A., University of Massachusetts at Amherst