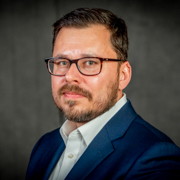 Nick Stanescu
Executive Vice President and Chief FedNow® Executive
FedNow® Service

Biography
Nick Stanescu is an executive vice president at the Federal Reserve Bank of Boston and the chief executive of the FedNow® Service. He leads the FedNow group that has responsibility for the Federal Reserve System's round-the-clock real-time payment and settlement service that supports instant payments in the United States. In this role, he has responsibility for FedNow Core delivery functions that include technology, product, and program management. Most recently, Nick served as FedNow business executive since program inception in August 2019.
Before joining the Federal Reserve Bank of Boston, Nick held several executive and senior level roles within the Federal Reserve Bank of New York, including as the Head of Payments Product Management where he had business responsibility for Fedwire Funds and National Settlement Services on behalf of the twelve Federal Reserve Banks. Collectively, these services clear and settle financial transactions exceeding $4 trillion per day and are a foundational underpinning of the United States financial system.
Nick received a bachelor's degree from Rutgers University and an MBA from New York University, Stern School of Business.

Education
M.B.A., New York University, Stern School of Business
B.S. in computer science, Rutgers University