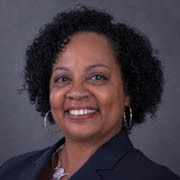 Pamela Harris
Assistant Vice President
Office of Diversity & Inclusion

Biography
Pamela (Pam) Harris is an assistant vice president in the Office of Diversity & Inclusion (ODI) responsible for assisting in setting the strategic direction of the diversity and inclusion initiatives and programming at the Federal Reserve Bank of Boston. This includes ensuring alignment to ODI strategic focus areas and strengthening external partnerships. Pam is also the lead liaison to the Reserve Bank's employee resource groups, provides guidance to the employee-led Diversity & Inclusion Working Group, hosts Bank-wide diversity dialogues, and coordinates various educational speaker programs.
Prior to joining the Reserve Bank, Pam was the director of diversity & inclusion for the missile defense business at Raytheon Company. She has led an array of diversity and inclusion strategies and objectives, including the creation of an enterprise diversity management framework that supported the building of an inclusive culture. In this role she was also responsible for implementing trainings, providing counsel on diversity and inclusion, and leading leadership diversity councils.
Pam holds degrees in industrial engineering and human resource management from Northeastern University.