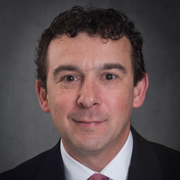 Paulo Prazeres
Vice President

Biography
Paulo Prazeres is an vice president in the Financial Planning & Analysis (FP&A) department at the Federal Reserve Bank of Boston. Paulo plays an important role in ensuring that financial resources are aligned with the Bank's strategic priorities by guiding the development of multi-year financial plans and budgets.
Paulo joined the Bank in September 2016 from EMC Corporation, where he served as the senior director of finance operations in EMC Professional Services, driving strategies for financial and operational reporting of a +$1.0B business with +5,000 employees globally. Prior to that, Paulo served as senior director of finance in EMC's global Information Technology group where he led the implementation of financial transparency programs for all of EMC IT's spend.
Paulo earned an M.B.A. in finance from Bryant University, where he later taught undergraduate financial management courses as an adjunct professor. He also holds M.S. and B.S. degrees in electrical engineering from Northeastern University.
Paulo is a lector at Saint John Paul II Parish in Pawtucket, RI.

Education
M.B.A. in finance, Bryant University
M.S. and B.S. in electrical engineering, Northeastern University

Public Service
Lector at Saint John Paul II Parish, Pawtucket, RI