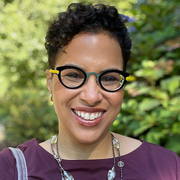 Ramona Royal
Assistant Vice President
Office of Diversity, Equity and Inclusion
Ramona.Royal@bos.frb.org

Biography
Ramona Royal is an assistant vice president in the Office of Diversity, Equity & Inclusion (ODEI) at the Federal Reserve Bank of Boston and is responsible for assisting in setting the strategic direction for diversity, equity and inclusion initiatives and programming. In this role, she will serve as the lead liaison to the Bank's employee resource groups, provide guidance to the Diversity and Inclusion Working Group (DIWG), and develop training for the Bank. She will also work closely with Human Resources to support diverse talent management initiatives.
Prior to joining the Bank, Ramona worked at Amica Mutual Insurance Company where she served as the Talent Management and Diversity, Equity, and Inclusion Officer responsible for developing talent management and diversity and inclusion strategies across the organization. Throughout her career, Ramona has been recognized for making meaningful advancements and identifying formal and informal barriers to diversity, equity, and inclusion.
Ramona is a founding member of Diversity & Inclusion Professionals in Rhode Island, was honored by RICJ at the Justice Awards Gala at the Rhode Island State House in 2019, and in March, she received the Individual Property and Casualty Diversity and Inclusion award from the American Property Casualty Insurance Association.
Ramona holds a bachelor's degree from Georgetown University and a master's degree in liberal arts from Harvard University. She also holds certificates from Harvard University in strategic management and organizational behavior.

Education
Master of Liberal Arts, Harvard University
BSFS, Georgetown University
Certificate in Strategic Management and Organizational Behavior, Harvard University