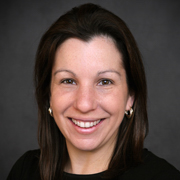 Steffanie A. Brady
Vice President and Chief Financial Officer

Biography
Steffanie Brady is a vice president in the financial management division and chief financial officer (CFO) at the Federal Reserve Bank of Boston. She is responsible for all Boston Fed financial activities including accounting, procurement, financial planning and analysis, and internal controls over financial reporting functional areas.
Prior to becoming CFO, Steffanie was a vice president in the Supervision, Regulation, and Credit (SRC) department where she co-led the Monitoring Analysis Program within the national LISCC Supervision Program. Steffanie joined the Bank in 2006 as an accounting policy specialist and progressively took on more expansive leadership and oversight roles, including in the Comprehensive Capital Analysis and Review stress testing evaluation exercise and as a recognized expert on asset management industry issues. Steffanie is a 2013 recipient of the System's William Taylor Award for Excellence in Bank Supervision.
Prior to joining the Federal Reserve, Steffanie oversaw corporate financial reporting at Putnam Investments and led assurance audits for various financial service sector clients at PricewaterhouseCoopers.
Steffanie holds a master's in finance from Boston College and a bachelor's from Boston University.

Education
M.S. in finance, Boston College
B.S., Boston University.
Publications
The Stability of Prime Money Market Mutual Funds: Sponsor Support from 2007 to 2011
Aug 13, 2012 Federal Reserve Bank of Boston Working Paper
GASB 45 and other post-employment benefits: The fog is clearing
Sept 2007 Federal Reserve Bank of Boston Policy Brief