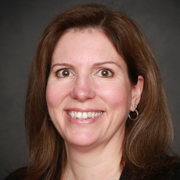 Stephanie Wallace
Assistant Vice President
Supervision, Regulation & Credit
stephanie.p.wallace@bos.frb.org

Biography
Stephanie Wallace is an assistant vice president in the credit risk management function within the Supervision, Regulation and Credit (SRC) department at the Federal Reserve Bank of Boston. In this role, Stephanie oversees Federal Reserve Bank of Boston lending to depository institutions through intraday credit and the Discount Window, monitoring of the financial condition of depository institutions located in the First District and application of associated risk controls, and analysis of collateral pledged to secure Discount Window advances and daylight overdrafts. Stephanie has made extensive contributions to both local and System Discount Window collateral eligibility and valuation initiatives and more recently to the design and development of liquidity facilities, which are critical priorities for the Bank and the System.
Stephanie joined the Bank in early 1998 as a legal intern and was hired as a full-time employee later that year. During her tenure at the Bank, she has held positions of increasing responsibility and most recently served as director in SRC's credit risk management function.
Stephanie holds a law degree from Quinnipiac University School of Law, a master of law in banking from Boston University School of Law, and a bachelor's degree from University at Albany (SUNY).

Education
J.D., Quinnipiac University School of Law
L.L.M., Boston University School of Law
B.S., University at Albany (SUNY)