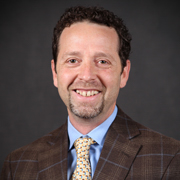 Yaniv Gershon
Vice President
Supervision, Regulation & Credit
Yaniv.Gershon@bos.frb.org

Biography
Yaniv Gershon is a vice president in the Large Institution Supervision Unit of the Supervision, Regulation & Credit department at the Federal Reserve Bank of Boston. He leads the capital assessment for the largest and most systemically important financial institutions in the Federal Reserve System. He oversees the day-to-day execution and the year-round supervisory program that assesses the capital adequacy, capital planning, and financial risks and controls. Prior to his current role, Yaniv served as a member of the Comprehensive Capital Analysis and Review (CCAR) Oversight Group where he oversaw Federal Reserve System teams responsible for the annual and year-round assessments of Counterparty Credit, Trading and Securities risk, and also previously served as the Basel II Deputy Lead of the Counterparty Credit Risk Qualification Team.
Prior to joining the Boston Fed in 2013, Yaniv headed the credit risk economic capital team at State Street where he was responsible for developing and implementing advanced credit risk capital modeling methodologies for wholesales and securitized assets portfolios.
Yaniv obtained his Master's degree in applied mathematics from Wayne State University and an accounting degree from Ramat-Gan College.

Education
Special Students Program
Harvard University – June 2008- May 2009
Harvard Graduate School of Arts and Sciences,concentration in probability and statistics
Wayne State University – B.A. in mathematics, minor in economics, summa cum lade
Wayne State University – M.A. in applied mathematics
Ramat-Gan College - Diploma in accounting
Publications
Using Stochastic Optimization Methods for Stock Selling Decision Making and Option Pricing, Journal of Communication in Information and Systems, Vol. 7, No. 2, pp. 111-132, 2007. With J. Bao, A. Belu, Y.J. Liu, G. Yin, and Q. Zhang
Modeling the economics of differentiated durable-goods markets, IMA – preprint series, July 2002 1866-6 (With Miyuki Breen, George Chikhladze, Jose Figueroa-Lopez, Yanto Muliadi, Ivy Prendergast, and Suzhou Huang)