The Great Recession, Entrepreneurship, and Productivity Performance
In recent years, it is argued, the level of entrepreneurial activity in the United States has declined, causing concern because of its potential macroeconomic implications. In particular, it is feared that a lower rate of firm creation may be associated with lower productivity growth and, hence, lower economic growth in the coming years. This paper studies the issue, focusing on the dynamics of entrepreneurship and productivity around the time of the Great Recession. The author looks first at the recent evolution of alternative measures of entrepreneurship and of productivity, and then analyzes the relationship between the two concepts.

Key Findings
Firm and establishment creation declined sharply with the Great Recession. Indeed, the number of firms created in 2009 was the lowest since 1977. However, the most recent data points available (2012–2013) suggest a (modest) improvement from the 2009 trough. It should be noted, though, that this paper focuses on the period around the Great Recession, so the recovery in entrepreneurship is relative to the 2009–2010 period and is silent about the declining long-term trend in entrepreneurship.
Alternative entrepreneurship measures also indicate that entrepreneurship is back to pre-crisis levels. Specifically, venture capital investments or entrepreneurship measures that track the number of individuals starting up businesses reveal that the values for 2013 are in the same range as those observed for 2005–2006.
The results show a positive association between entrepreneurship and productivity.

Exhibits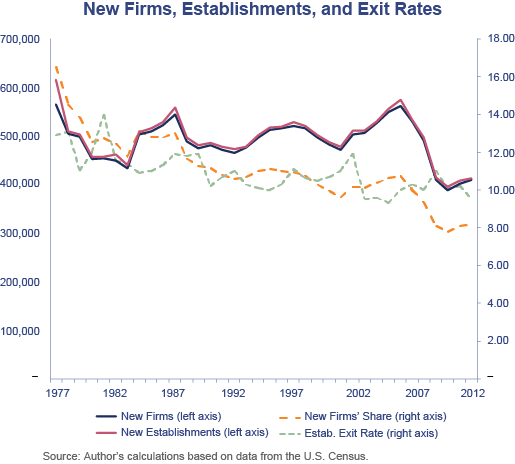 Implications
Other things being equal, these results imply a positive outlook for productivity, given the recovery in entrepreneurship. Of course, there are several other variables that affect productivity besides entrepreneurship and the reallocation of resources generated by the process of "creative destruction."

Abstract
I study the recent evolution of entrepreneurship in the United States. I find that there was a significant decline in entrepreneurship around the time of the Great Recession. However, I also find a recovery in recent years. I then link the evolution of entrepreneurship to productivity performance and find evidence of a positive association between the two variables.

Resources