Playing the Pieces of New England's Airport System
Air transportation got its start in the 1920s carrying the U.S. mails. Passenger service for the privileged elite began soon thereafter, and then cargo freight. Air traffic really took off during the economic boom of the 1950s and '60s, as firms expanded their markets, aviation technologies improved, and rising personal incomes opened the door to leisure air travel for middle-class Americans. Today, air transportation is economically critical to communication, domestic and international trade, and investment. Airports -- the central public infrastructure of flight -- have emerged as a bottleneck, limiting this essential economic facility.
Air transportation is especially critical to New England. The region lies in the northeast corner of the nation, far from the heartland, observes John Meyer, transportation economist at Harvard University, and air transportation dramatically reduces this geographic handicap. The region's mix of industries is also relatively travel-intensive. Financial services, research and development, education, and consulting are heavy fliers. New England's many exporters rely on air transportation to make sales calls and provide ongoing service. That high-tech vendors can quickly deliver their high-value, low-weight products by air reduces their need to keep costly inventories close to customers. Students flock from afar to the region's universities and patients to its hospitals, and the tourist trade would not be possible without good air service. New Englanders also benefit as consumers when purchasing imports or heading off to vacation in Florida.
Unfortunately, many pieces of the region's airport system are poorly played. Logan International Airport does have the advantage of being virtually downtown. But it has not seen significant investment in capacity for more than twenty years, and ranks among the country's most congested and delay-ridden airports. All forecasts show this problem worsening in the future. Even if airlines were to respond by increasing plane sizes and rerouting flights to other hubs, congestion at Logan could limit the growth of the regional economy.
Because Logan is surrounded by water and residential neighborhoods and adding new runways is difficult, the notion of a second airport in Greater Boston was long debated by politicians and business groups. The idea has been abandoned by most people in the past few years as politically impossible. Building a major airport, moreover, can be prolonged and expensive; Denver's experience with its new airport underscores this point.
Demand can be accommodated through other, more efficient means, most experts agree. To expand New England's air capacity and cut delays, they would reposition air service to underused regional airports, selectively develop new infrastructure at Logan, and more effectively manage existing facilities.
LONG HORIZON
Forecasts of air travel beyond three or five years must be conjectural. Although growth in per capita revenue passenger miles (one paying passenger flown one mile) has roughly tracked growth in real per capita income, technological and economic shocks further boosted industry output. The introduction of jet-propelled aircraft in the '60s redefined air service by raising speed and allowing more comfortable flights above turbulent weather. Federal deregulation of airline prices and service in 1978 accelerated growth by attracting new entrants and lowering prices. Globalization, and a surge of tourism, also contributed to runaway air traffic expansion in the '80s.
Such shocks make airport demand difficult to predict. In the late '80s, jet manufacturers and airlines foresaw a boom in the current decade. Instead, the recession of the early '90s, combined with corporate restructuring, curtailed business travel and resulted, until quite recently, in airline overcapacity.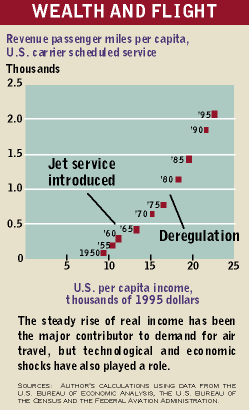 Airport planners are nevertheless stuck with the problem of making large capital investments, in immovable assets, to satisfy demand twenty years out. Planning for New England has additional, special features. Logan is unique in combining high levels of international, New England commuter, major domestic carrier, and cargo traffic. And almost 90 percent of Logan passengers start or end their journey there, making it one of the largest origin and destination markets in the country, a profile that tends to use airport services such as parking and customs more heavily than a hub-dominated airport.
Logan currently handles 25 million passengers a year. Recent forecasts by various consulting firms and the Massachusetts Port Authority, or Massport, which owns and operates Logan, foresee from 30 to 45 million passengers by 2010. The wide range stems from different assumptions about the growth of the New England economy, the likelihood of high-speed rail service to New York City (one in every seven departures at Logan goes to New York), the expansion of jet service at the other airports in the region, and improvements in telecommunications that could substitute for travel. Each of these factors, influenced by volatile political and technological events, is itself highly uncertain.
Telecommunications, perhaps most importantly, has a complex relationship to air travel. Many telephone calls substitute for travel, and they're becoming cheaper every day. Electronic mail is spreading quickly. Videoconferencing, still of crude quality, could become commonplace by 2010. But these tele-technologies probably will not replace much business air travel. Half of business fliers go to conventions, trade shows, and the like, which thrive on physical congregation. The remainder are split between intrafirm and interfirm fliers. Consultants at Arthur D. Little, Inc., in an assessment of the region's air system three years ago, noted that videoconferencing substitutes primarily for intrafirm meetings and training. Sales calls and negotiations with outsiders, on the other hand, still rely on personal encounters. Videoconferencing and e-mail are unlikely to replace personal meetings with outsiders; and cheap long-distance phone service actually stimulates travel of this nature. Todd Burger, the A.D. Little director who led the study, suggested that telecommunications advances on net might dampen growth in Logan's passenger traffic 7 percent by 2010.
TIGHT FIT
Capacity is a dynamic concept that changes with the mix of aircraft and the role of an airport. But the basic measure of capacity constraint is delay, and Logan's intensive use and runway configuration make it the fifth-worst airport in the nation in delays per flight. Delays sometimes rise to three hours, and the costs of congestion, notably in time lost by passengers, are huge.
Ralph Nicosia-Rusin, capacity program manager at the Federal Aviation Administration's New England office, explains that major hub airports typically alternate one hour dominated by arrivals followed by an hour of departures. Should arrival delays (the dominant kind) build due to fog, a hub airport stands a good chance of recovering to a normal schedule in the next hour. Logan has a different pattern, being at the end of many different flight streams. Planes arrive and depart continuously, and half of Logan's takeoff and landing operations are small commuter and general aviation aircraft, almost twice the level of most major airports. Small craft hold fewer passengers, fly more slowly, and must maintain greater distances from the wind vortexes thrown off by larger craft. Because of Logan's diversity and intensity of use, delays can persist for longer periods.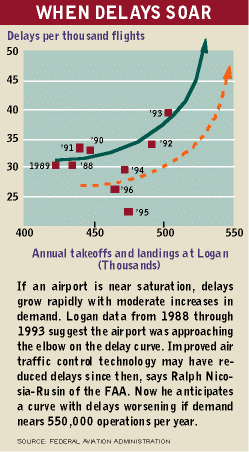 Massport has little hope of limiting the initial cause of delays, since two-thirds of Logan delays result from weather. Fog and snow are the most visible causes. Less so is the ruckus caused by strong northwest winds, which often appear in the winter or after a northeast front blows through. Aircraft must point into the wind on takeoff and landing, and only runway 33 (330 degrees on the compass) is available. So access dwindles from three runways to one when northwest winds blow. Large and small aircraft then have to use the same arrival stream, with the attendant complications. Logan's maximum capacity as determined by the FAA, one hundred twenty operations per hour, drops to forty to sixty with only one runway available.
Massport can, however, limit the propagation of delays. Improvements in traffic control reduced the rate of delays over the past few years, says Nicosia-Rusin. But Logan may again be approaching the "elbow," where a moderate increase in operations could substantially increase delays. As currently managed, Logan appears to be close to practical capacity.
PRICE THE CONCRETE RIGHT
Foremost among Massport's efforts to address congestion is an initiative to build a runway that commuter aircraft would use during a northwest wind. This would free the existing runway 33 for the exclusive use of large jets. The new runway could cut delays by 25 percent overall, and up to 90 percent on the worst days, says Massport Aviation Director Thomas Kinton. Aircraft would take off or land on this runway in only one direction, over Boston Harbor, so as not to disturb surrounding neighborhoods. Since East Boston, Winthrop, and other nearby towns historically have fought expansions of Logan, however, Massport officials expect opposition. But if the approvals come quickly, the runway could open in 1999.
Even with new infrastructure, Massport officials must improve management of the existing network. One option is pricing scarce runway space. Access to runways is generally first-come, first-served (with guidance by the control tower). Long queues at Logan, as at most other major airports, suggest the rent is too low for this precious real estate. Higher landing fees during peak times, many economists believe, would increase consumer welfare by allocating airport capacity to its best use. Such peak-load pricing, used in many other industries, could induce airlines to increase plane sizes, schedule flights with fuller loads, and reroute some trips to less congested times or to other hubs.
Logan's landing fees, like those of virtually all U.S. airports, do not reflect congestion. Fees are based instead on weight. So a typical wide-body jet pays roughly $800 while the smallest plane, which causes as much congestion, pays $25.
In 1988, Massport did try a fee scheme that combined aircraft weight with an additional fee per landing. Flights by smaller planes became relatively more expensive, and their use of Logan dropped substantially, although that reduction was also affected by industry consolidations. The scheme ended after it was judged discriminatory against small planes by the U.S. Department of Transportation, which noted that small aircraft paid higher prices even at hours when there was ample runway capacity. At the same time, the agency ruling opened the door to peak-load pricing, noting that "it may be appropriate to raise fees in order to invoke market responses during periods when the airport is congested."
After taking that big political risk, Massport has not moved further toward market pricing. It faces intense opposition from the general and commuter aviation industries. Since flights to Cape Cod, Bangor, and other New England outposts are the ones most likely to be rescheduled, relocated, or canceled, peak-load pricing could penalize what Massport's Kinton calls "our own people." Most major carriers are also opposed, viewing it as an additional tax.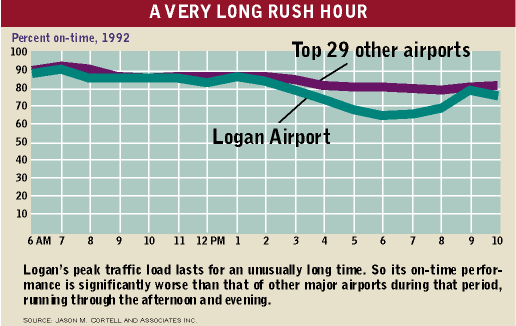 Poor pricing and underinvestment in new runways strain the nation's air system. Economists Steven Morrison of Northeastern University and Clifford Winston of the Brookings Institution estimated in 1988 that landing fees which account for an aircraft's contribution to congestion would generate almost $4 billion in annual net benefits nationwide, largely accrued in time savings. Combined with what they determined to be optimal investments in new runways, they see $11 billion in net benefits.
Peak-load pricing, however, might be less beneficial than at other major airports. John Meyer, the Harvard economist, points out that Logan's diverse mix of flights means that the weekday peak lasts six hours rather than spiking for an hour or two, so shifting demand is difficult. Meyer speculates that with optimal pricing, traffic at peak might drop between 5 and 10 percent. Nevertheless, as airlines reschedule their flights, the policy will pull demand away from Logan's capasity elbow and limit the propagation of delays. So peak load pricing, and a new runway, remain constructive means of unclogging the skies at Logan.
SATELLITES
Besides market pricing, more productive use of Logan hinges on its relationship with the smaller airports in the region. Five sizeable commercial airports -- Hartford, Manchester, Portland, Providence, and Worcester -- lie within one hundred miles of Boston; Hanscom Field, a major general aviation airport, also is northwest of the city. With these airports operating at an aggregate of just fifty percent of capacity, most could absorb more of the traffic now flowing through Logan.
Logan attracts roughly five million origin and destination passengers from the areas serviced by the five airports. The consulting firm Simat, Helliesen , Eichner estimates that up to two million of these current passengers, or 8 percent of Logan's total passengers, could be recaptured to fly out of these airports by 2010. The critical factor is improved jet service.
Logan has more frequent jet service and generally lower fares than the regional airports, since more carriers are competing for market share. Both factors reinforce Logan's dominance. Still, a regional effort by Massport, other airport officials, and the airlines to use the smaller airports more intensively could cut congestion at Logan and yield large net benefits to travelers living near the smaller airports.
Regional commuters disproportionately bear Logan's high price, and risk, of delay. It's the shuttle service between Logan and the smaller airports that tends to be heavily canceled. (The same plane tends to make many such trips and it's grounded.) So people from Providence who might use Logan as a connection, not a destination, are especially prone to getting there via car or bus. Peak-load pricing at Logan could cut delays in part by shifting some flights to another time or hub. So market pricing would work best if the regional airports could expand jet service.
The recent experience of the Manchester Airport, which started as a grass strip in 1927, illustrates the potential and the requirements for creating a better regional air system. Manchester has a geographic and economic advantage. It's located in fast-growing southern New Hampshire, and is close to the northern suburbs ringing Boston. Passenger growth at Manchester has been a torrid 9 percent a year since 1988, after USAir and United introduced nonstop jet service to Chicago, New York, Orlando, and other cities.
People familiar with the airport also credit its aggressive marketing to airlines as well as to travelers. Since jet service tends to expand in lumps, not small increments, hooking an additional airline can substantially boost an airport's traffic. The airport still captures only one-quarter of its service area; fully half of the five million regional passengers currently leaked to Logan originate from the Manchester area.
Alfred Testa, Jr., director of the Manchester Airport, has made his pitch to scores of airline executives. "The airlines do not come to you in a small city," Testa says. "You have to convince them there is a market." It took two years, with survey and demographic data in hand, to convince ComAir (a Delta connection) to introduce jet service. Testa and his staff have also pitched travel agents in New Hampshire and Massachusetts. Most agents previously weren't familiar with Manchester, not to mention its improved service. But after a series of group dinners, agent referrals have risen briskly.
Further unmet demand exists, Testa believes; he cites demand from the state's dozens of catalog sales firms, and from service firms which are opening regional offices in the area. The area's suppliers to the auto industry have asked for nonstop service to Detroit. Cargo business is expanding as well, and several manufacturing firms are building plants close by.
Similar opportunities exist elsewhere in New England, especially at Providence's T.F. Green Airport. Discount carrier Southwest Airlines is generating new demand there with its no-frills, quick-turnaround hops. Discount airlines boost volume by enticing people who otherwise would not fly, such as college students and last-minute holiday sunbirds. But they use each plane and gate intensively, so they can't tolerate congested, higher-cost airports such as Logan.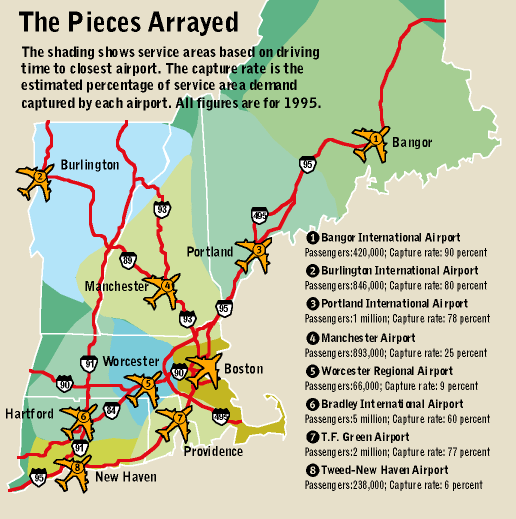 Major carriers are also expanding service at regional airports and bypassing the congestion at Logan. Flying out of Portland, Delta switched its connector hub from Logan to Cincinnati, expanding fivefold the number of connections. USAir has dropped prices and expanded the number of flights out of Manchester. Closing the fare differentials with Logan-based flights, and greater cooperation between Massport and the regionals, ultimately could produce a more integrated, efficient regional air system.
INSURANCE
New England has adopted a posture of low growth in its transportation sector. The region has abandoned the second airport initiative. High-speed rail to New York and improvements at Logan face funding or local community obstacles.
With all forecasts showing congestion at Logan worsening, New Englanders may well want to expand capacity, as a sort of insurance policy. This would mean acting on several fronts building the new runway at Logan, enacting peak-load pricing, stepping up service at the regional airports, better coordination among airports and carriers, and aggressive and careful marketing. The various solutions are complementary and thus work best in concert. And they depend on sending better price signals to carriers and travelers, rather than hiding costs in a sea of delay.