Observations
Cents and Sensibilities
It is hard to say whether men are really from Mars and women from Venus. But, at least when it comes to money matters, they seem to be worlds apart. Men are more likely to "think highly of their competence [in] money management skills than women," says psychologist Melvin Prince of Fordham University. And this translates into different investment behavior.
Indeed, economists Brad Barber and Terrance Odean at U.C. Davis found significant differences in portfolio performance between the sexes when they compared the accounts opened by men and women at a discount brokerage house between 1991 and 1997. Perhaps because they were more likely to think they knew what they were doing, men traded much more actively: The accounts opened by men showed 45 percent more trading activity than those opened by women. But all of this trading did not help their bottom line. When Barber and Odean compared each person's end-of-year portfolio to the results they would have obtained if they had left their beginning-of-year portfolio untouched, they found that, on average, men reduced their earnings by 2.7 percent through trading. Women would also have been better off if they had left their portfolios untouched. But at 1.7 percent, the difference was much smaller.
It wasn't that men were worse stock pickers than women. They were equally bad: For both genders, the stocks they bought tended to underperform the stocks they sold. But by trading more, men exercised their judgment more often. And, of course, transaction costs only made the situation worse.
Interestingly, marriage seems to bring the genders together in more ways than one. Married men behave more like women-trading less than single men. This means that, for men, marriage can potentially have a positive impact on their portfolio returns. But for women, the effect is less benign: Married women trade more than single women. Instead of listening to their husband's advice, perhaps wives should just have the last word after all.
-Sarosh Khan
Plush Puppies
When Nestlé acquired the Ralston Purina Group in January, analysts noted that dog and cat food sales were growing faster than sales of food for people. Indeed, the Pet Food Institute reports that sales of dog and cat food have been growing at an average annual rate of 6.5 percent since 1993, while sales of both at-home and eat-out food for humans are growing less than 2 percent per year, according to the Consumer Expenditure Survey.
Cat and dog populations are growing faster than the human population, but not quickly enough to explain the difference in spending levels. And spending is not just increasing for pet food. The entire $28.5 billion pet industry has been growing at an annual rate of 7 percent despite the past decade's decreased rate of household growth and the slower growth of families (those most likely to own pets).
"Consumers are spending more on their pets than ever before," says Bob Devine, President of Hartz Mountain Corporation, a leading pet product manufacturer. Owners are trading lower-quality brands for higher-end premium foods like Iams, Purina One, and Science Diet, and are increasingly splurging for pet treats. In addition, a quick trip to the store has provided owners with access to an elaborate array of products, including cat wedding dresses, chenille sweaters for dogs, ferret hammocks, and animal-specific shampoos. Vets now offer many of the expensive medical procedures and remedies available to humans, such as chemotherapy, EKGs, and dentistry, and pets can visit an acupuncturist or an astrologer for a consultation.
So why this newfound interest in buying premium food and high-end products and services? Increasing wealth might be part of the explanation, notes Devine. But owners also have a "greater commitment to their animals," says Alan Beck, a professor at Purdue University's School of Veterinary Medicine. The American Veterinary Medical Association reports that 85.3 percent of dog owners and 67.7 percent of cat owners took their pet to the vet in 1996, compared to 81.6 percent and 59.4 percent, respectively, in 1987. And a recent study by the American Animal Hospital Association revealed that 84 percent of pet owners refer to themselves as their pet's "parent." It's not surprising, then, that they feed their "kids" the best food around.
- Joy Merriner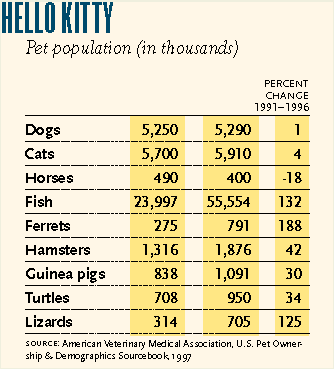 The increased pace of life has led Americans to choose less time-consuming pets such as cats and reptiles over the more traditional choice, man's best friend.