The 2015 Survey of Consumer Payment Choice: Summary Results
This report presents key findings from the 2015 Survey of Consumer Payment Choice (SCPC). Due to changes in sampling frame and sample size, this report describes the survey results for 2015 only.
see more

Key Findings
Consumers have many payment options: more than half of U.S. consumers had six or more payment instruments in 2015.
In 2015, the top four payments instruments (cash, paper check, debit card, and credit or charge card), taken together, were adopted by more than 80 of percent U.S. consumers. Essentially all U.S. consumers reported having adopted cash (99.7 percent) and 82.2 percent had adopted paper checks.
More than 90 percent of U.S. consumers had a bank account (checking or savings) in 2015; half owned nonbank payment accounts. The median balance in adopters' checking accounts (up to two accounts) was about $1,000, compared with about $50 in median total cash holdings. Thirty-seven percent of consumers who did not have a checking account cited reasons related to cost.
Three-quarters of U.S. consumers had one or more savings accounts in 2015, and roughly the same proportion had credit accounts used to make payments.
Over the course of the year, consumers who had set up online bank billing payment and who owned prepaid cards were unlikely to use them compared with other payment instrument choices like debit cards or cash, which were used at least once to make a payment in 2015 by at least 80 percent of adopters.
Two-thirds of consumers reported adopting an account or app that would permit them to make a payment using a mobile phone, but just one-quarter made a mobile payment in the 12 months ending in October 2015.
Three in 10 consumers owned general purpose reloadable prepaid cards, which can be used to receive and store money as well as to make payments. Few consumers had adopted virtual currencies, such as bitcoin. Most of those who used alternative financial services (AFS) tapped payments services like money orders or check cashing; fewer used AFS financing.

Exhibits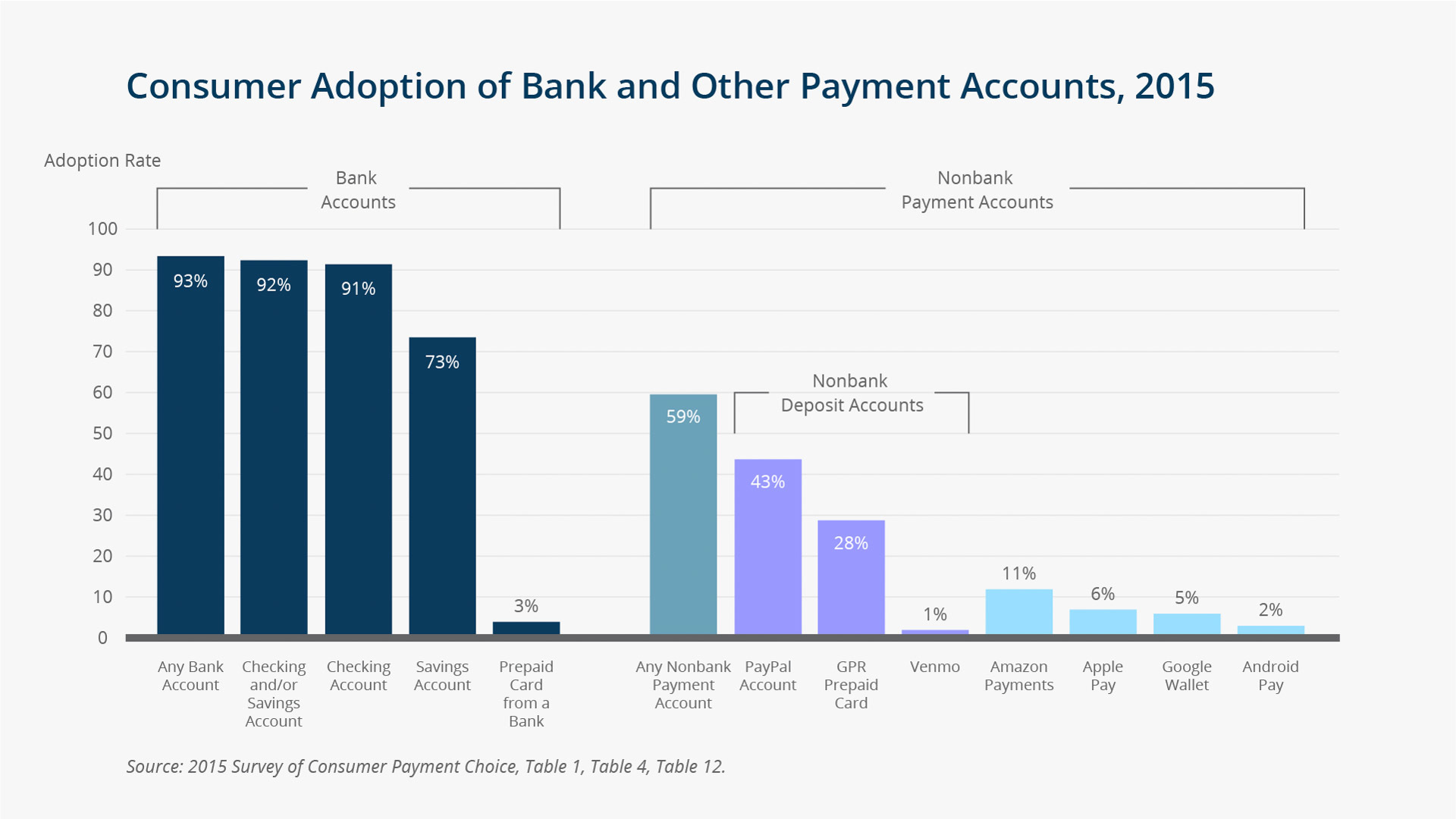 Implications
The 2015 SCPC provides a snapshot of U.S. consumer payment choices that reflects widespread diversity and the influence of new payment innovations, but also reliance on cash. The 2015 SCPC is based on an improved sampling frame (hence, there are potential differences in unobserved respondent characteristics) but a smaller-than-usual sample size (hence, less statistical precision). For these reasons, the 2015 estimates should not be compared with the 2008–2014 SCPC estimates at this time.

Abstract
The 2015 Survey of Consumer Payment Choice (SCPC) was implemented using a new longitudinal panel, the Understanding America Study (UAS), and results are not yet comparable to the 2008–2014 SCPC. In 2015, U.S. consumers made 68.9 payments per month. Debit cards remained the most popular payment instrument among U.S. consumers in 2015, accounting for 32.5 percent of their monthly payments, followed by cash (27.1 percent) and credit or charge cards (21.3 percent). For nonbills, consumers used cash and debit equally—about one-third of the time for each. For bills, consumers used payment cards for half of bill payments and electronic payments from bank accounts for one-quarter of bill payments. In 2015, U.S. consumers on average held $202 in cash (on person and stored on property, large values excluded). Use of new payment technologies was still relatively rare. Just over 1 percent of consumers had a Venmo account in 2015. About half a percent of U.S. consumers held bitcoin or other virtual currencies.

Resources
Derived Variables with Raw Data
Raw Data
Results