"No More Credit Score" Employer Credit Check Bans and Signal Substitution
The use of credit information for employment screening has increased significantly over the last two decades. Industry surveys indicate that such screening is used by 47 percent of employers. This screening tool has come under fire, though, by politicians and community groups that claim it unfairly penalizes minority and other vulnerable applicants. In response to these fears, a number of state governments have passed laws restricting the use of credit information by employers in the hiring process. The first of these laws was passed in Washington in 2007, and, as of this writing, 10 states and three municipalities have such laws on the books. Thirty-one other states have considered similar laws. This practice has come under scrutiny at the federal level as well. For example, the Equal Employment Opportunity Commission recently noted in a discussion letter, "…if an employer's use of credit information disproportionately excludes African-American and Hispanic candidates, the practice would be unlawful unless the employer could establish that the practice is needed." Although employer credit checks are now pervasive and state and local bans on the use of credit information have become increasingly popular, little research has been done to date on their economic impact. This paper explores the impact of these bans.
see more

Key Findings
Using new Equifax data on employer credit checks, the Federal Reserve Bank of New York Consumer Credit Panel/Equifax data, and the LEHD Origin-Destination Employment data, the authors show that these bans increased employment of residents in the lowest-credit score census tracts, with the largest gains occurring in higher-paying jobs and in the government sector.
At the same time, using a large database of job postings, the authors show that employers increased their demand for other signals of applicants' job performance, like education and experience.

Exhibits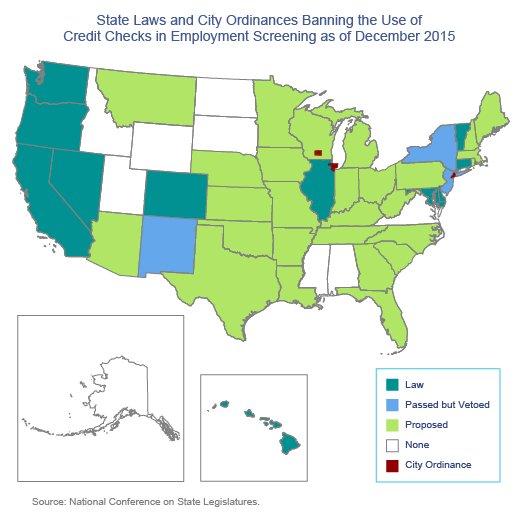 Implications
These findings suggest that, on net, the changes induced by these bans generate relatively worse outcomes for those with mid-to-low credit scores, for those under 22 years of age, and for blacks, groups commonly thought to benefit from such legislation.

Resources