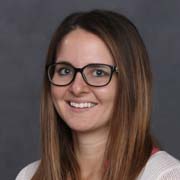 Danielle Zanzalari
Financial Economist
Supervision, Regulation & Credit
danielle.zanzalari@bos.frb.org

Biography
Danielle Zanzalari is a Financial Economist at the Federal Reserve Bank of Boston. Her research focuses on how regulation affects bank operations, bank capital and industry lending. She also has a current project bridging the banking and demand estimation literature. Zanzalari earned a B.A. from Seton Hall University in 2010 and a M.A. and Ph.D. from Clemson University in 2015.

Work Experience
Federal Reserve Bank of Boston
Financial Economist, 2015-Present
Clemson University
Instructor, 2012-2015
Teaching Assistant, Research Assistant 2010-2012

Education
Ph.D., Economics, Clemson University, 2015
M.A., Economics, Clemson University, 2011
B.A., Business Administration (Finance), Seton Hall University, 2010
Publications
Journal articles
"What are the Odds? A Measure of Small Sample Problems. Applied Economic Letters", Rotthoff, K., Zanzalari, D., and Jasina, J. (2011). , 18(12):1139-1143.
Working papers
Does Bank Size Matter? Investor Reactions to TARP (2016)
The Effect of Nontraditional Banking on Entry into TARP and Bank Failure (2015)