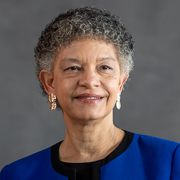 Susan M. Collins
Incoming President & CEO

Biography
Susan M. Collins takes office on July 1, 2022, as president and chief executive officer of Federal Reserve Bank of Boston. She will serve as a 2022 voting member of the Federal Open Market Committee once in office.
Dr. Collins is currently provost and executive vice president for academic affairs at the University of Michigan and the Edward M. Gramlich Collegiate Professor of Public Policy and Professor of Economics. Appointed as provost in 2020, she is the chief academic and budget officer, responsible for overseeing all academic programming and budget planning, and aligning administrative and support functions to advance the university's mission of education, research and service. She came to Michigan in 2007, serving (for a decade) as the Joan and Sanford Weill Dean of the university's Gerald R. Ford School of Public Policy.
Dr. Collins earned a Ph.D. in economics at the Massachusetts Institute of Technology, after graduating from Harvard University, summa cum laude, with an undergraduate degree in economics. She began her career as an assistant and associate professor at Harvard, moving to Washington DC in 1992, where she was a professor of economics at Georgetown University; and a senior fellow in Economic Studies at the Brookings Institution. She has also served as a senior staff economist at the President's Council of Economic Advisers, and a visiting scholar at the International Monetary Fund.
Her published research has focused on the determinants of economic growth, exchange rate regimes and the implications for economic performance, the implications of global integration for U.S. labor markets, persistent macroeconomic imbalances, and countries' economic transformations.
Among other affiliations, Dr. Collins served for nine years on the Board of Directors of the Federal Reserve Bank of Chicago (six at the head office and three in Detroit). She is currently a member of the boards of the National Bureau of Economic Research and the Peterson Institute for International Economics; and a nonresident senior fellow at the Brookings Institution. Before taking office, she will step down from these positions. She is also a member of the Council on Foreign Relations, and the Aspen Economic Strategy Group.
In the past, Dr. Collins has served as an elected member of the American Economic Association's executive committee. She has also chaired the AEA's Committee on the Status of Minority Groups in the Economics Profession, and been president of the Association of Professional Schools of International Affairs.