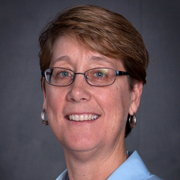 Judith Quenzel
Vice President
Supervision, Regulation & Credit
Judy.Quenzel@bos.frb.org

Biography
Judith (Judy) Quenzel is a vice president in the Supervision, Regulation & Credit (SRC) department at the Federal Reserve Bank of Boston where she is responsible for overseeing the department's strategic planning, budgeting, administration, staff development, quality management and IT functions. Judy is also responsible for directing the activities of the Consumer Compliance supervision function.
Judy has been with the Boston Fed since 1990, holding various positions of increased responsibility in the Supervision, Regulation & Credit Department.
Judy holds an undergraduate degree in political science from the University of Vermont and an M.B.A. from Boston College.

Education
M.B.A., Boston College
B.A. in political science, University of Vermont