Household Formation over Time: Evidence from Two Cohorts of Young Adults
Much recent discussion has centered on the decline in the household formation of young adults during and following the Great Recession. Many young individuals chose to live at home rather than move out to form their own households, while others moved back in with their parents after previously living independently. Numerous reports and articles have explored the recent household-formation behavior of young adults, as economists, sociologists, and others try to determine why the number of young adults living independently has decreased. Understanding these changes in co-residence patterns is important because a decline in household formation has potential implications for homeownership, residential investment, wealth building, and fertility—factors that matter for both the macroeconomy and for the well-being of young adults as they age. To date, much of this analysis has examined either household-formation patterns over time or the potential reasons for the recent decline in household formation. Less research has focused on how the predictors of household formation have potentially shifted over time. The analysis in this paper, in which the authors compare parental co-residence rates of individuals 23–33 years of age within and across cohorts using individual-level data from two different cohorts (1979 and 1997) of the National Longitudinal Survey of Youth, helps to fill this gap.
see more

Key Findings
The share of individuals who are living with parents (LWP) declines with age, but the LWP share is noticeably higher at nearly every age for the 1997 cohort than for the 1979 cohort.
There is substantial variation in household formation both within and across cohorts, based on race and housing costs, among other factors. For example, a Hispanic youth in the 1997 cohort is roughly 20 percentage points more likely to be LWP than a non-black/non -Hispanic youth in the 1979 cohort. Similarly, members of the 1997 cohort living in areas that experienced high house-price growth are roughly 15 percentage points more likely to be LWP at age 23 than same-age youth  from the 1979 cohort who lived in areas that experienced low house-price growth.
Even though economic conditions were difficult at times for members of both cohorts, whether or not individuals are LWP is much more sensitive to economic conditions in the 1997 cohort than in the 1979 cohort. Even after controlling for differences in economic conditions and observed characteristics between the two cohorts, members of the 1997 cohort are more likely to be LWP than members of the 1979 cohort. Thus, there has been a shift over time in the household-formation rates of 23-33-year-old individuals that cannot be easily measured or accounted for by observable factors. This difference in household-formation rates between the two cohorts disappears if we incorporate cohort-based differences in marriage rates and the number of children—two factors that likely directly influence individuals' decisions to live independently.

Exhibits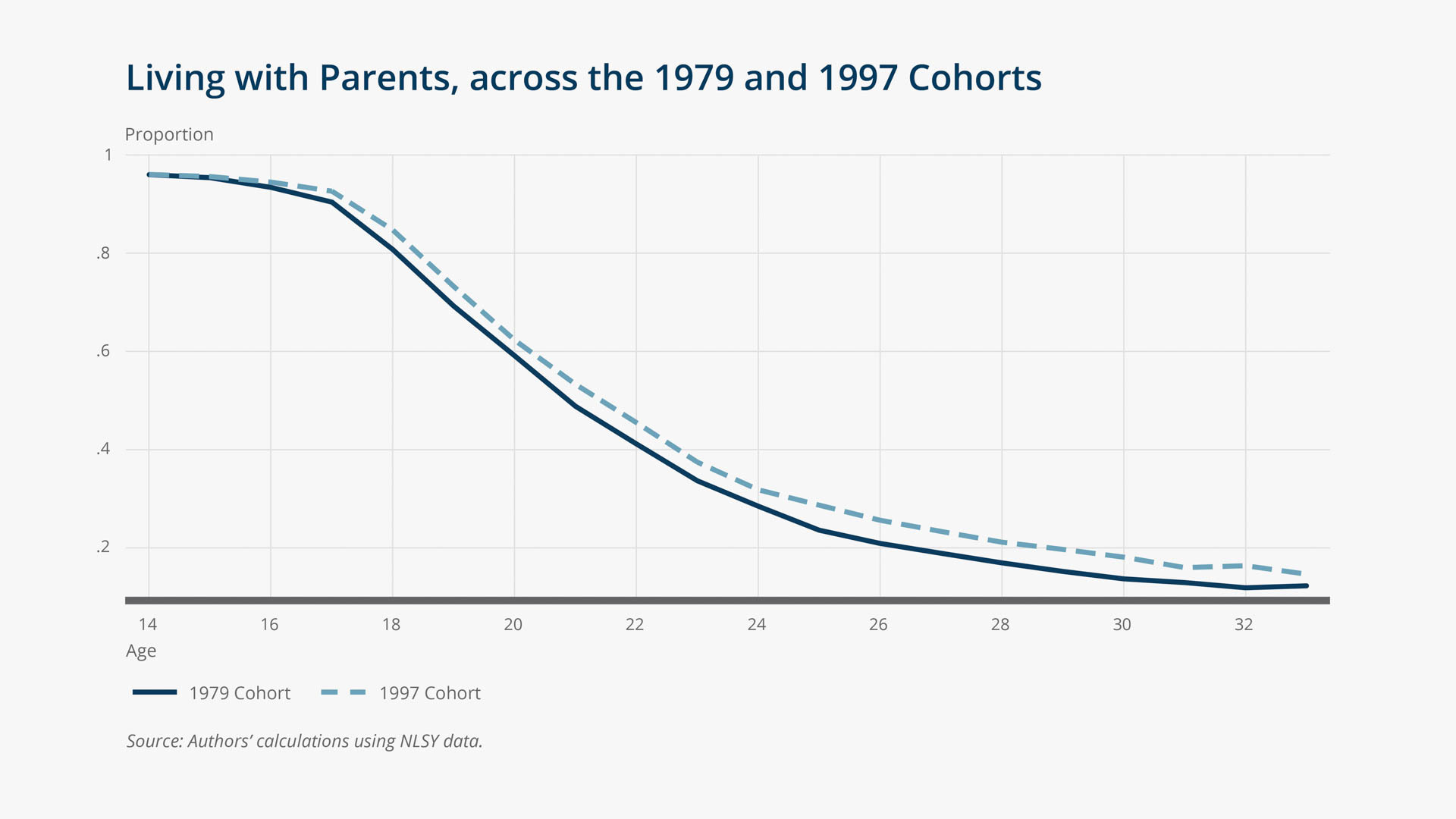 Implications
Even after controlling for local economic conditions, the authors cannot fully account for the cohort-based difference in individuals' likelihood of living independently from their parents. To a certain degree, young adults seem inherently more likely to live with their parents now than in the past, potentially due to shifting attitudes toward such co-habitation and to changes in parenting styles. The authors provide some evidence that this may be the case, using data from the General Social Survey. Potential explanations for this shift in outlook include smaller family sizes and larger homes over time, which make it easier for young adults to cohabit comfortably with their parents.

Abstract
This paper analyzes household formation in the United States using data from two cohorts of the national Longitudinal Survey of Youth (NLSY)—the 1979 cohort and the 1997 cohort. The analysis focuses on how various demographic and economic factors impact household formation both within cohorts and over time across cohorts. The results show that there are substantial differences over time in the share of young adults living with their parents. Differences in housing costs and business-cycle conditions can explain up to 70 percent of the difference in household-formation rates across cohorts. Shifting attitudes toward co-habitation with parents also play a role.

Resources