Consumption, Credit, and the Missing Young
The Credit Card Accountability Responsibility and Disclosure (CARD) Act of 2009 includes provisions that limit the availability of credit cards to young adults. Though the act is intended to protect members of this group, it has likely adversely impacted their ability to access credit and build a credit history. Using data from the New York Fed Consumer Credit Panel (CCP) provided by Equifax, the authors of this paper document that a higher percentage of young adults were missing from credit bureau records following the implementation of the CARD Act, and that their numbers had only partially recovered by 2018. The authors call this phenomenon the "missing young." By combining state-level consumption data from the Bureau of Economic Analysis (BEA) with their measures of missing young (MY) from the CCP, they demonstrate that indicators of MY have predictive power for consumption growth at the state level.
The authors also present evidence that is consistent with the spending effects being driven at least in part by reduced credit supply to young individuals and not simply by reduced credit demand from this group.
see more

Key Findings
The number of young people (aged 18 to 34) missing from the New York Fed Consumer Credit Panel data was 10.9 percentage points greater in 2012 (after the implementation of the CARD Act) than it was in 2007 (before the CARD Act and the Great Recession), which implies a drag on state-level consumption growth of 0.54 percentage point.
Consumption growth would have been 0.21 to 0.36 percentage point higher in 2018 if the proportion of these "missing young" (MY) had not increased relative to 2007.
A 27-year-old in 2018 (who would have been 18 when the CARD Act was implemented) opened his or her first credit account about 6.4 months later than a 27-year-old in 2006, on average.
Since the enactment of the CARD Act, young individuals are more likely to have access to credit cards if they are in socioeconomic groups historically deemed to be less of a credit risk, or if they have more affluent parents who can potentially co-sign a credit card for them.
The degree of exposure to financial education across states and over time correlates with the authors' MY measures; that is, a higher share of young adults in a state who were exposed to a personal finance curriculum in high school is associated with a lower share of MY after the CARD Act took effect.

Exhibits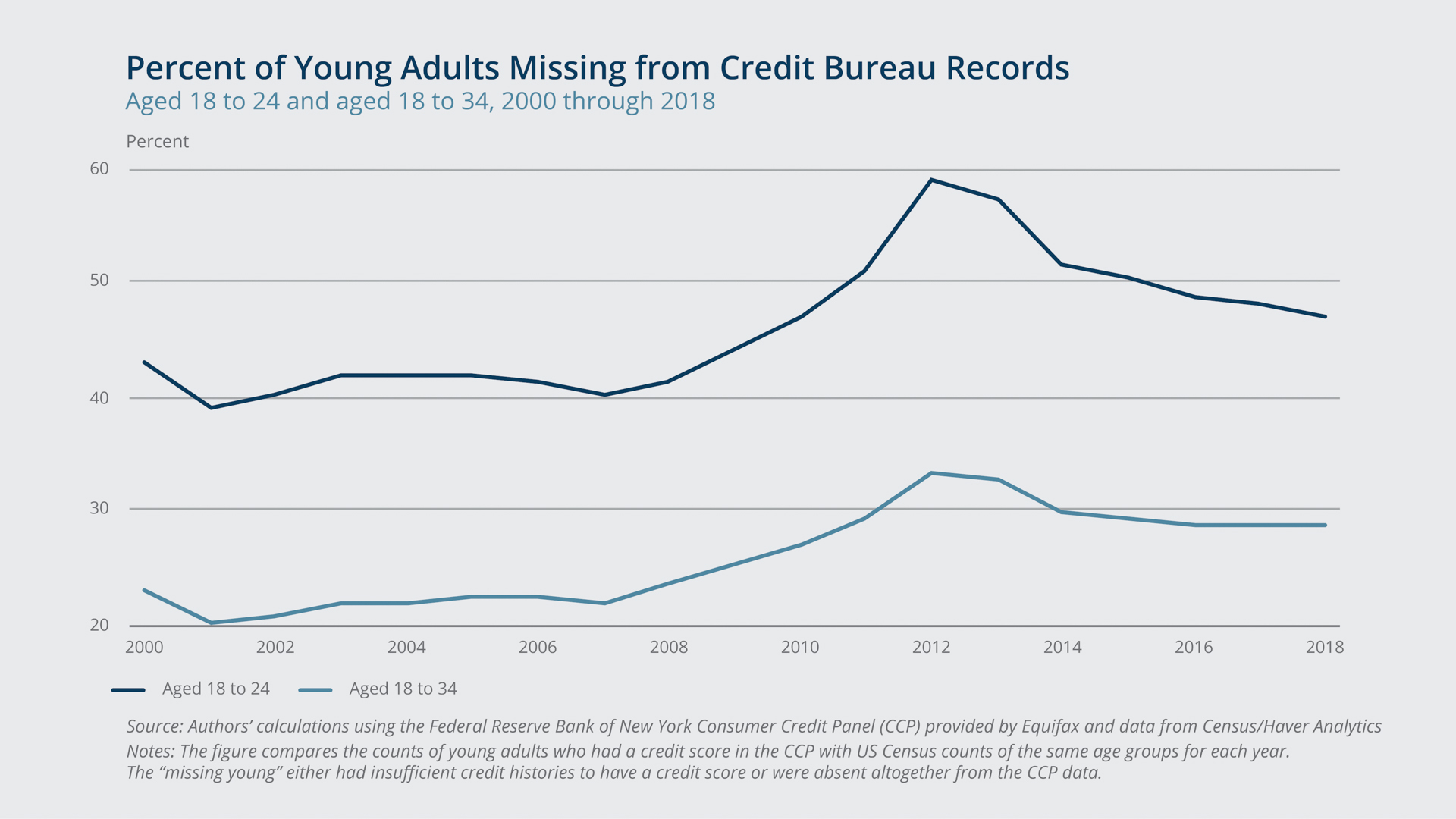 Implications
If more limited access to credit for young adults is the new normal, then the authors' estimates imply that for some time, consumption growth may remain below the level suggested by standard models, which do not incorporate MY or credit access more generally.
This paper underscores that financial education is important for helping these consumers build credit histories early in their adult lives, so that they do not have to delay buying a house or other large-ticket items due to a lack of access to credit. Indeed, when credit availability delays home buying, it has important implications for wealth accumulation.

Abstract
There are more young adults today with either no credit history or insufficient credit history to be scored by one of the major credit bureaus than there were before the Great Recession—a reality that is likely an unintended outcome of the CARD Act of 2009. In regressions that include a rich set of controls, this paper shows that measures of young adults missing from credit bureau data act as a drag on state-level consumption growth. This finding seems to be driven by young individuals from more disadvantaged backgrounds having less access to credit since the act went into effect.

Resources