No Longer Qualified? Changes in the Supply and Demand for Skills within Occupations
Labor market mismatch is often defined as the aggregate imbalance in the supply of and the demand for labor across all occupations. However, skill mismatch within a given occupation can also occur if the job requirements are changing over time, perhaps due to innovations brought about by technological advances or changes in international trade. Previous research has established that when unemployment rose during the Great Recession, US employers increased the education requirements for open positions, a practice that has become known as "upskilling." While about one-third of the upskilling that occurred during the last recession turns out to have been cyclical or opportunistic, as much as two-thirds appears to have been structural because it lasted at least through the end of 2015, when the US unemployment rate had reverted almost completely to its level as of late 2007, just before the Great Recession started. Based on the evidence that upskilling has persisted, unemployed workers in some occupations may no longer qualify for the jobs they once held. Indeed, recent evidence from Hall and Schulhofer-Wohl (2018) suggests that aggregate matching efficiency remains significantly below its pre-recession levels despite improvements in the unemployment rate, a combination of facts that may reflect frictions stemming from persistent upskilling.
In this paper, the authors explore the degree to which the upskilling that occurred within occupations during the recovery period following the Great Recession contributed to reduced matching efficiency in specific portions of the US labor market and possibly in the aggregate US labor market. The main data source, from Burning Glass Technologies (BGT), contains almost 159 million individual job postings, essentially all the job openings listed online in the United States during 2007, the period before the Great Recession began in December of 2007, and from 2010 through 2017, the recovery period. The US labor market is divided into three skill sectors—high, middle, and low—based on the pre-recession education levels of incumbent workers. The BGT data are also used to examine changes in specific skill requirements, broadly defined as baseline skills (communication, project management, and familiarity with Microsoft Office applications), narrower specialized skills (such as accounting, ligation, or teaching), and specialized software skills (programming applications like Java Script, SQL, or Oracle). Data from the Current Population Survey are used in conjunction with the BGT data to construct mismatch indexes at various levels of occupational detail. An occupation is considered to have upskilled during the Great Recession if between 2007 and 2010, the share of job postings within that occupation that required a four-year college degree or higher increased by at least 5 percentage points. An occupation for which the share of job opening requiring a four-year college degree increased by less than 5 percentage points is classified as having experienced no upskilling. An occupation is considered to have experienced persistent upskilling if, having first upskilled between 2007 and 2010, the share of job posting requiring a four-year college degree declined by less than 2.5 percentage points through 2017. An occupation is defined as having experienced temporary upskilling if, after upskilling between 2007 and 2010, it saw its share of jobs requiring a four-year degree revert by more than 2.5 percentage points through 2017.
see more

Key Findings
Referring to the categories just described, between 2007 and 2017 high-skill occupations experienced persistent upskilling, middle-skill occupations experienced temporary upskilling, and low-skill occupations experienced neither temporary nor persistent upskilling.
The demand for baseline and specialized skills increased rapidly across all three skill sectors during the Great Recession, then continued to rise, but at a slower rate, during the recovery. While the demand for software skills increased rapidly within all three sectors of the US labor market between 2007 and 2010, that demand continued to rise only in the high-skill sector between 2010 and 2017.
Over the business cycle, occupational mismatch evolved very differently within either the middle-skill sector or the low-skill sector when compared with the high-skill sector. Mismatch in both the middle-skill and low-skill sectors exhibited a sharply cyclical pattern, rising in 2010 compared with 2007, then receded between 2010 and 2017 as the labor market recovered. Mismatch within the high-skill sector increased modestly between 2007 and 2010, then increased further between 2010 and 2017, a period when the aggregate US labor market posted fairly steady employment gains.
Persistent upskilling within the high-skill sector as well as within certain major occupational classifications may have contributed to reduced matching efficiency in the aggregate US labor market.

Exhibits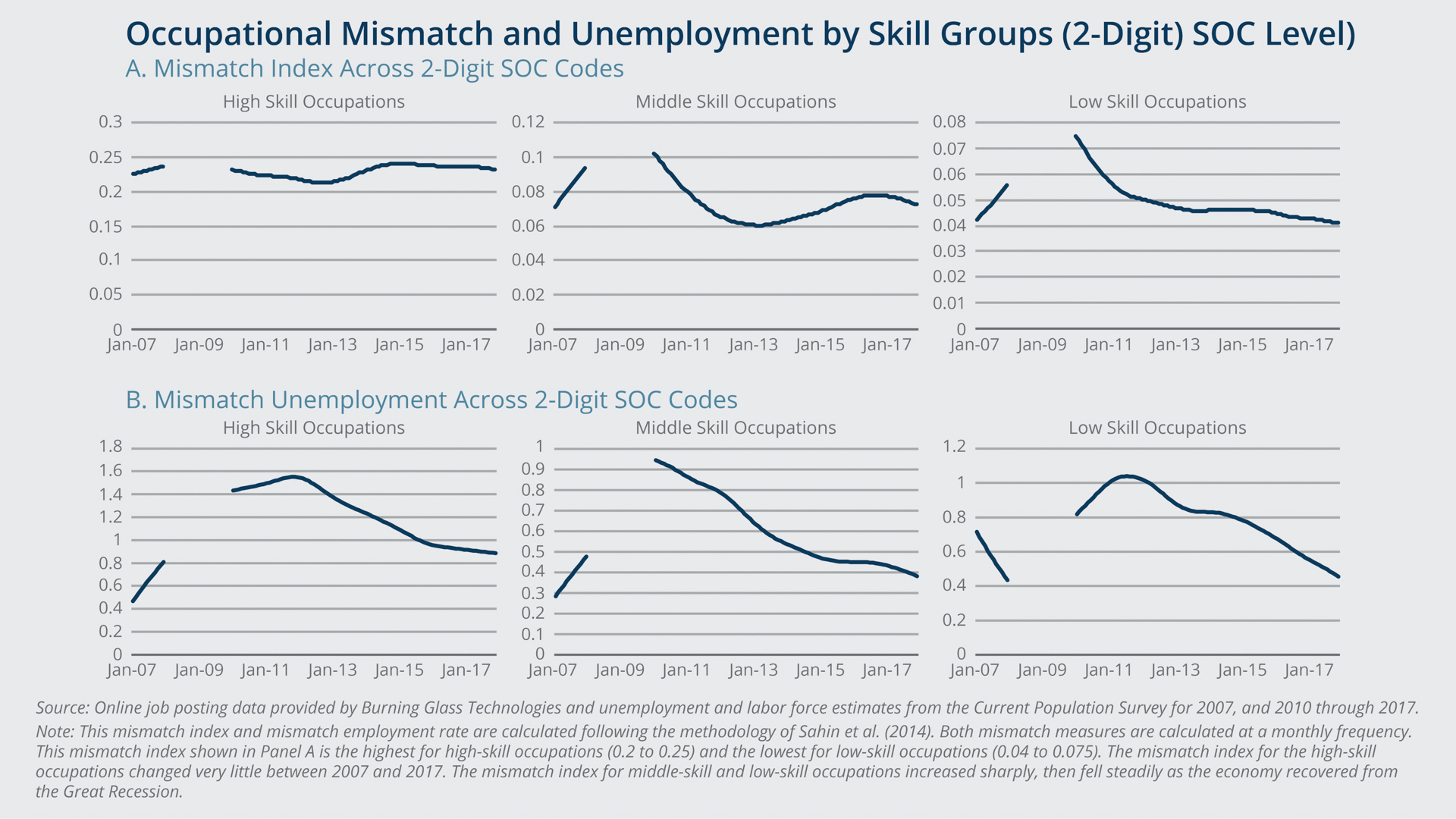 Implications
Upskilling within occupations is a structural trend that may account for both the slow employment recovery following the Great Recession and the reduced aggregate matching efficiency still present in the US labor market. Moreover, the ramping up of education and skill requirements within selected occupations may explain the conundrum associated with the early recovery (2010 through 2012): Employers reported difficulties finding workers with the desired skill sets, yet economists find little evidence of aggregate labor market mismatch during this period. The results presented here suggest that more consideration should be paid to mismatch within occupations and skill sectors, as these conditions are not fully captured by aggregate mismatch indexes and yet might nonetheless contribute to aggregate labor market frictions.

Abstract
Using a novel database of 159 million online job postings, we examine changes in employer skill requirements for education and specific skillsets between 2007 and 2017. We find that upskilling—in terms of increasing demands for bachelor's degrees as well as software skills—was a persistent trend among high-skill occupations, but either a temporary or non-existent phenomenon among middle-skill and low-skill occupations. We also find evidence that persistent upskilling in the high-skill sector contributed to greater occupational mismatch that remained elevated during the recovery from the Great Recession. In contrast, labor market mismatch had largely dissipated within the low-skill and middle-skill sectors by 2017.

Resources