November 13, 2017
What's in a design session?
Read more about the work being done by teams to gear up for implementation grants.
As a competition, the Working Cities Challenge is organized around several major stages, which include design and implementation phases. Woven throughout this process is the ideal of bringing people to the table, in some cases for the first time, and building a sustainable, collaborative leadership model -- the "secret sauce" identified by Boston Fed research of resurging postindustrial cities. The design phase is critical to this endeavor in supporting city teams to further develop initiatives that integrate the WCC's core elements and that are competitive for implementation funding.
The design phase allows teams to build their teams, engage community residents, and thoughtfully construct a solid implementation plan that can be used whether or not a team wins the larger Working Cities grant. Over a span of six months, the teams participate in a series of four day-long 'design sessions' that focus on the core elements of the Challenge: collaborative leadership, systems change, using data for learning and decision-making, and community engagement.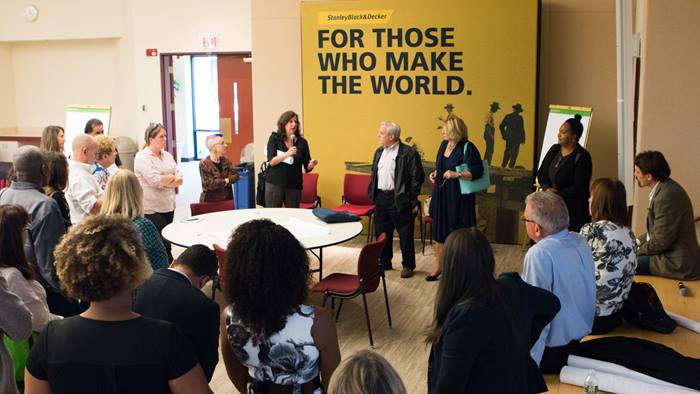 "Design sessions are important because they allow city teams the time and space to reflect on what they are doing, how they are doing it, and who's involved on their team," noted Working Cities Connecticut Director David Radcliffe, who recently capped off design session season across the Constitution State.
Each of the sessions involve cross-sector partners (public, private, nonprofit and residents) from all participating teams – upwards of 200 people all speaking the language of Working Cities. Historically, each round includes four sessions guided by a results framework to help each team through their overarching economic growth challenge they want to address, in addition to the strategies they will employ to face and overcome that challenge.
That framework is focused on one of the four 'core elements' (collaborative leadership, community engagement, learning orientation, system change) that the Working Cities Challenge team believes are important for city success. The design phase is intended to support teams in their efforts to better understand and incorporate these core elements of the Working Cities Challenge in their proposals.
To learn more about design sessions, check out a recent Twitter moment of the fourth and final design session held in Connecticut focused on system change.