Mapping New England: People per Financial Institution Branch
The tally of 6,000 financial institution branches in New England works out to four branches per town, but in reality branch concentrations vary widely.
According to the National Credit Union Administration (NCUA) and the Federal Deposit Insurance Corporation (FDIC), there are more than 6,000 bank or credit union branches in New England. That works out to almost four branches for every town. The branches are not evenly distributed, however, with some areas clearly having higher concentrations than others.
There is no optimal number of people per branch, but it is noteworthy that in densely populated places like Middlesex County and Boston, there are fewer people per branch than in some sparsely populated rural counties.[1]
Some rural counties account for some of the highest numbers of people per branch in New England; others account for some of the lowest. The neighboring counties of Windsor in Vermont and Grafton in New Hampshire had low numbers-fewer than 1,500 people per branch. On the other end of the spectrum, Waldo County in Maine and Strafford County in New Hampshire both had over 3,000 people per branch, more than twice as many people per branch as the low-people-per-branch counties. With the exception of Providence County, most urban or suburban counties fell into the middle ranges.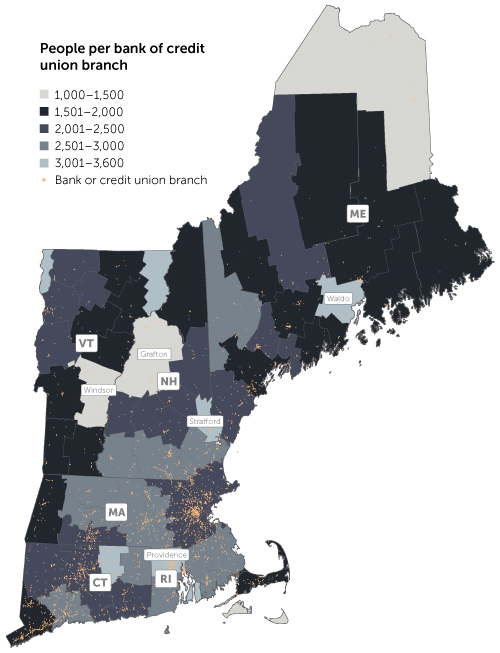 Sources: NCUA, FDIC Summary of Deposits, 2007-2011, American Community Survey.
Endnote
[1] In reality, less than 3% of the over 7,000 blocks in Boston have a bank or credit union branch.
[Back to story]
Articles may be reprinted if Communities & Banking and the author are credited and the following disclaimer is used: "The views expressed are not necessarily those of the Federal Reserve Bank of Boston or the Federal Reserve System. Information about organizations and upcoming events is strictly informational and not an endorsement."

About the Authors

Resources