Consumers' Use of Overdraft Protection
In mid-2010, an amendment was passed to Regulation E, which implements the Electronic Fund Transfer Act, requiring financial institutions to ask consumers whether or not they want overdraft protection for automated teller machine (ATM) transactions and everyday purchases made with a debit card. This Research Data Report studies the short-term impact of this amendment by examining consumers' adoption of overdraft protection, the incidence of overdrawing at least once within a 12-month period, and the incidence of paying a fee for overdrawing, before and after the opt-in rule took effect.
see more

Key Findings
For fall 2014 compared with fall 2009:

A greater proportion of people with a checking account said they have "overdraft protection," as broadly defined in the survey questionnaire.
A smaller proportion of checking account owners overdrew their account balances at least once in the prior 12 months.
A smaller proportion of those who did so were charged a fee.

From 2009 to 2011, the decline in the percentage of consumers who paid a fee for overdrawing was sharper than the decline in the percentage of those who withdrew more than they had in their bank account.

Exhibits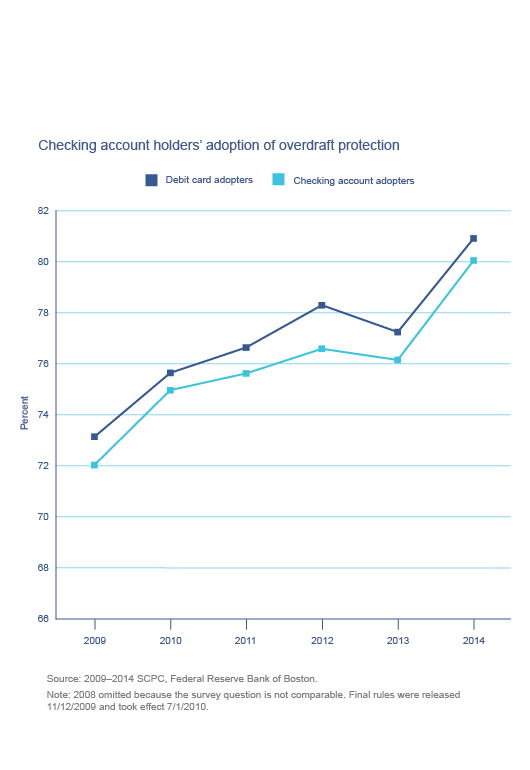 Implications
These findings are statistically significant, but the economic impact is small. The data do not show a strong and immediate response to the implementation of the opt-in rule. Rather, mild trends may reflect the impact of the rule but might also reflect other economic factors.

Resources