Productivity and Export Market Participation: Evidence from Colombia
Using evidence from Colombia, the authors study the relationship between firms' productivity and their export market participation decisions. Understanding the link between these two variables is critical for the study and design of policies aimed at achieving high and sustainable economic growth in the long run.

Key Findings
Productivity appears to be strongly associated with a higher probability of a firm's being an exporter—a finding that holds up across several methodologies used to estimate productivity.
Exporters have a productivity premium (higher TFP) over nonexporters: on average, this premium can be as high as 85 percent, depending on the methodology used to recover productivity, with substantial variation across sectors.
There are significant differences within the groups of exporters—for example, the premium for firms that export in every single year is above 100 percent, while for those firms that stop exporting at some point, the premium is negligible (and even negative).
A positive relationship exists between productivity and the number of export destinations, and with the number of products exported by the firms, but no apparent relationship between the firms' productivity and the type of destination reached or of the type of good exported.
There is evidence that future exporters may have higher productivity before exporting, and weak evidence of reverse causality in the relationship between a firm's productivity and its exporter status.

Exhibits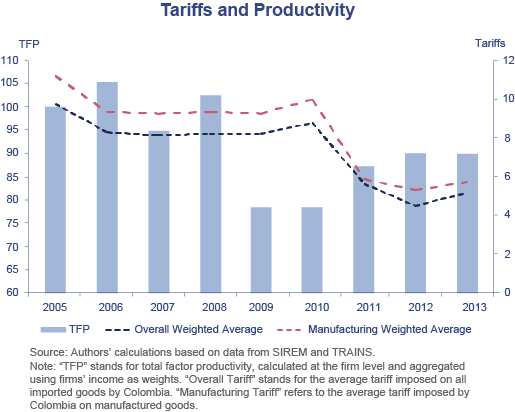 Implications
The evidence is consistent with a positive relationship between trade liberalization and productivity.

Abstract
We study the relationship between total factor productivity (TFP) and exporting decisions for Colombian manufacturing firms during 2005–2013. We find that productivity increases a firm's probability of being an exporter, and that exporters have higher productivity, with a premium as high as 85 percent. These findings are robust to several TFP measures. Moreover, we find that not all exporters are equal: firms that export continuously, that export a greater number of products, and/or that export to a larger number of destinations tend to be more productive. We do not find, however, any relationship between productivity and the type of destination or exported product. Finally, we find evidence that future exporters have an ex ante productivity advantage, and (weaker) evidence of TFP increasing after a firm becomes an exporter.

Resources